Clothing Style Tip: Six compelling reasons to choose neutrals
Posted by Rose on 1st Sep 2021
In creating capsule wardrobes women turn to neutral and natural shades for maximum versatility
Something I learned long ago is that when it comes to color, there are really no rules that apply universally or consistently. Color encompasses so much. From the emotional power of a deep crimson to the cool collectedness of a subtle mauve, color conveys emotions, personality, mood, and aesthetics. I also find color can be situational — sometimes we just feel a little more flamboyant or retiring and then dress accordingly.
---
I am the founder of Sympatico, a sustainably made fashion collection that includes hemp and Tencel women's tops, skirts, and pants. I regularly post style tips and news about developments in eco-friendly fashions. You can sign up for her weekly emails at the bottom of this page.
---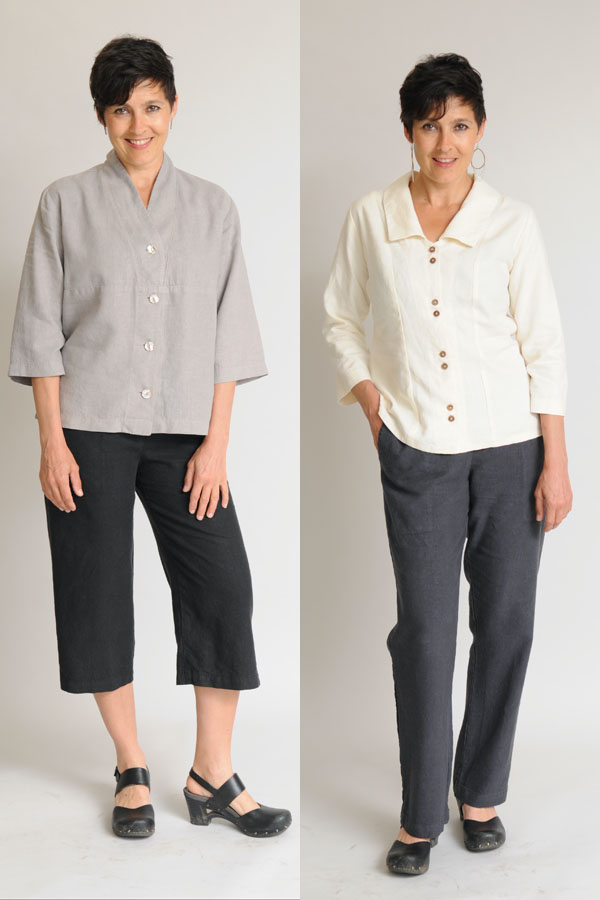 Neutral shades in natural fibers offer the ultimate in flexibility and sustainability. (L) Tuxedo Top in Grey Fog, Cropped Pants in Black. (R) Princess Top in undyed Natural and Stovepipe Pants in Graphite.
Putting aside all the conversation that has been spent surrounding different theories of color compatibility based on skin and hair shades, I've always felt that above all, we need to feel comfortable in the color and cut of our clothing. It's a truism that well-adjusted folks are "comfortable in their skin". If you think of the apparel we choose as a second skin, then the comfort factor will probably be key. Besides, most of us are drawn to colors that look good on us.
Even if there are few rules to follow where color is concerned, there's no arguing that neutrals have an important place in just about any wardrobe palette. And just to clarify, pretty much any shade of black, white, off-white, grey, tan, and many earth tones easily fits under the neutral banner.
Take for example Sympatico's Grey Fog. It has subtle undertones of pink and blue, but the overall impression is of a soft, non-confrontational grey that coexists with virtually any other shade you choose.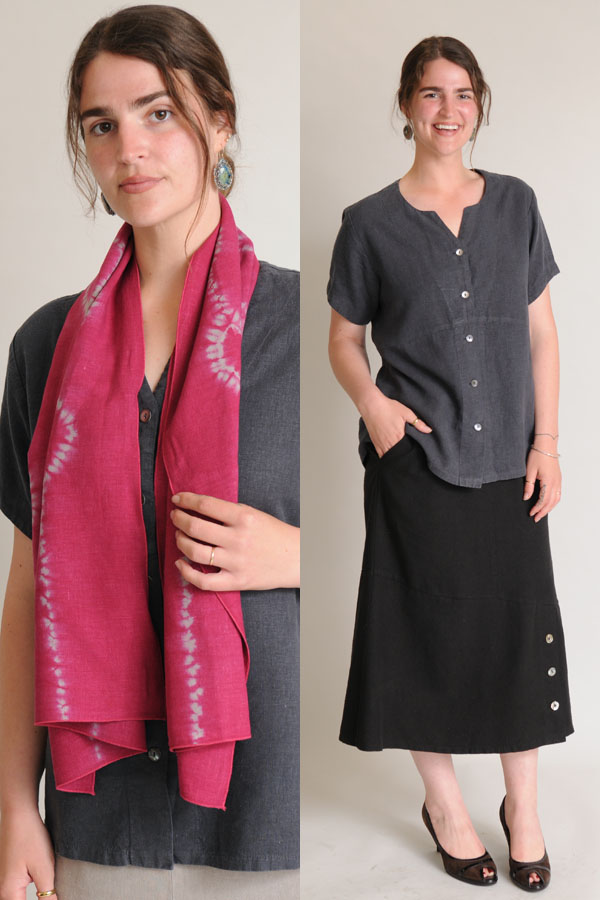 (L) It's easy to spice up neutrals with a splash of color such as this scarf over a Swallowtail Top in Graphite. (R) Neutrals are essential in a classic wardrobe. Swallowtail Top in Graphite with Angled Skirt in Black.
Here are six of the most compelling reasons to choose neutrals when it comes to creating a capsule wardrobe built for maximum versatility and sustainability.
Neutral shades are classic shades
They're simple. They're clean. They're unfussy, and they get along brilliantly with many if not all the colors in your closet. Many designers use a natural palette, sometimes in concert and contrast with bold, brilliant colors.
Neutrals simplify your life
Having a versatile collection of tops, pants, and skirts in neutral shades makes putting an outfit together simple.
Natural-fiber neutrals: the sustainability daily double
Natural fibers come in a range of shades from cream to light brown to ivory and beyond. Some organic cotton has been bred to impart subtle shades also. At Sympatico, I'm always curious to see exactly what the next bolts of woven hemp and Tencel fabric will look like, given the subtle variations from crop to crop. Each harvest is a little different in terms of shade with some leaning a little yellower and creamier while others are more milk-white. Regardless, when you choose an undyed garment you're taking an even bigger step toward maximum sustainability.
A neutral-based capsule wardrobe is a way to buy less
As I've blogged about before a well-conceived capsule wardrobe is an exercise in minimalism. By limiting our clothing purchases to timelessly stylish pieces, we lessen our personal impact on Mother Earth.
Neutrals don't have to be boring
Maybe it goes without saying, but neutrals are the perfect canvas on which to show off your more flamboyant and colorful persona. Whether it's some bright and chunky jewelry, a hand-dyed scarf, or fancy footwear, neutrals help give your favorite accessories the right frame.
Neutral shades go along with changes to your appearance
Do you change your hair color from time to time? Or is nature taking care of that process for you? Either way, neutrals can be a helpful way to transition and age gracefully.
It's been said that to remain neutral in a grave crisis is a failing. But basing our capsule wardrobes on sound principles of neutrality is another matter altogether!