Travel Tale: Honeymoon in Israel
Posted by Rose on 23rd Apr 2021
This customer's honeymoon makes a great test case for Sympatico as women's natural travel wear
For Pamela Elisheva, going natural when it comes to a travel wardrobe is essential. As our debut Travel Tales winner and a frequent traveler, she offers her experiences in packing and laundering Sympatico's easy care hemp/Tencel fabric. Like many Sympatico customers, she's discovered that Sympatico offers the comfort, no-fuss care and versatility that are hallmarks of a well thought-out capsule travel wardrobe.
Learn more: Easy care travel wear without synthetics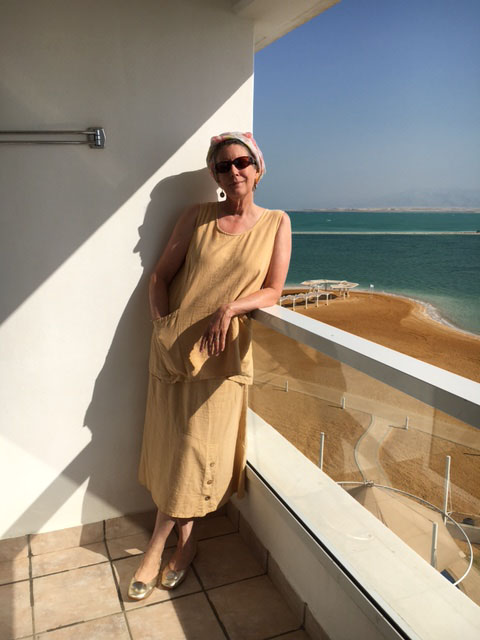 Above: Pamela looking cool in her Trapeze Tunic worn over an Angled Skirt.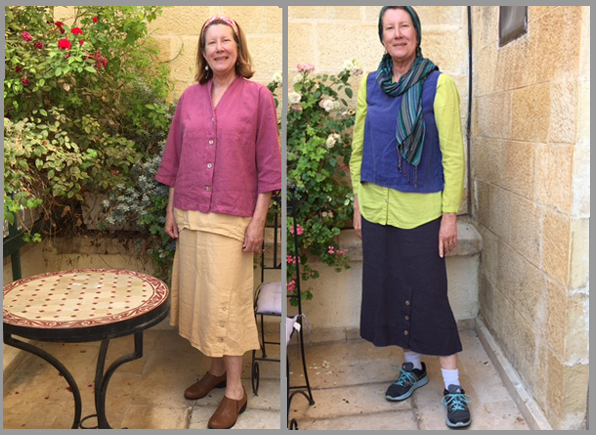 On left: Pamela wears our Tuxedo Top layered over a Trapeze Tunic and an Angled Skirt; on right, a Tank Top over a long sleeve top and Angled Skirt.
Pamela's Travel Tales entry took the form of a travel journal in which she addresses the practical aspects of staying comfortable and presentable on the road.
Pamela on laundering her capsule wardrobe:
Washed skirt & top a week ago in the kitchen sink of our guest house in Arbel, then hung it out to dry. Last night, steamed it in the bathroom which had no exhaust fan for shower steam—convenient :-) This pose is before Israeli buffet breakfast, but after a float in the Dead Sea at dawn. Ahhh...Israeli resort pleasures…
More dispatches from Pamela follow, this one from Jerusalem.
On wearing:
Saturday is Shabbat; it's forbidden to shop and all tourism sites are closed. So we toured churches in the Old City instead. What you don't see in this photo are the knee braces under the skirt—they're extremely helpful with flights of stairs everywhere. The outfit still looks awesome, even though I really look like a tourist with my walking stick and goofy shade hat. My nose has not burned yet though!
Above: Pamela pauses in a Plum Swallowtail Top over a long sleeve top and Angled Skirt.
On packing:
Pamela also offers this slightly tongue-in-cheek packing advice.
Packing Tips: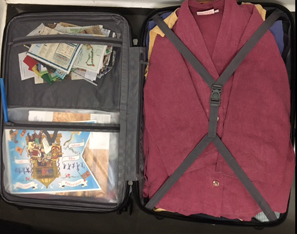 Use this two-step process to press your clothes on a trip. For best effect, zip up the suitcase tightly. (P.S. This works best if you overpack, like me.)
Shalom,
Pamela Elisheva
Tell me your Travel Tale! If I publish it, you'll receive a $100 Sympatico store credit! Be sure to include photos of you wearing your Sympatico Clothing! Tips for writing your tale here.
Email your adventures with pictures and include the subject line, "Travel Tales".
Lots more Travel Tales here.
Download a handy packing list.